What are the advantages of Air Filters?
Jan. 16, 2020
Stainless steel filter is a relatively broad concept term. In detail, there can be air filters, air conditioning filters, stainless steel filter cartridges, stainless steel filters, oil filters, and so on. Let's not repeat them one by one. Today we first look at the advantages of air filters. Stainless steel wires, copper wires, nickel wires, etc. can be used as raw materials for air filters. In recent years, a filter made of plastic raw silk has also been used, but the use effect and lifetime are far less than those made of metal.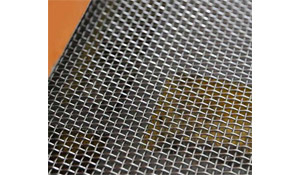 Gas Filtration SS Wire Mesh
Gas Filtration SS Wire Mesh is divided into four types: coarse effect, the medium effect, sub-efficiency, and high efficiency. Among them, coarse effect and medium effect are suitable for fresh air filtration, which is the primary filtration of ventilation system equipment. It mainly filters dust and particles in the air. Objects; the filters of the sub-high efficiency and high-efficiency filter section has the characteristics of high filtration efficiency and low resistance and the filtering effect of bacteria in the air can reach 100%!
The outer frame of Gas Screening Wire Mesh is mostly made of a rigid, moisture-proof hard paper frame, which will not cause deformation or damage to the filter during use.
Air filters are still environmentally friendly products and can be reused. When the filtering effect of the air filter is not good, you can take it out for cleaning, and the cleaning method is very simple. You only need to rinse the air filter in the diluted dishwashing water several times.
In addition, the stainless steel filter element also has very good advantages in the filtration of some special gases, and its corrosion resistance is better. At dawn, stainless steel filter element manufacturers, so now many locals are using stainless steel filter element products, but also need to know Although the product is said to have a better effect, when we select it, we still have to choose it based on the specific features of the stainless steel folding filter. Because the cost of this product is not low, and the installation is very professional.
The stainless steel filter element can clean the stainless steel filter element to remove dust by blowing air into the stainless steel filter element. This method saves time and effort, so you can easily finish cleaning. Secondly, you can choose to hit the stainless steel filter element manually to remove dust from the stainless steel filter element, but this method is more time-saving and labor-saving. This method usually contains stubborn dust left inside. When the stainless steel filter is disassembled, it is necessary to have more professional people to remove the dust, so as to ensure that the reasons for cleaning the stainless steel filter will not cause stainless steel problems and the method of cleaning the stainless steel filter.
Our company is Stainless Steel Wire Mesh Supplier, welcome to consult.