How Many Woven Types of Stainless Steel Wire Mesh Are There?
Apr. 22, 2022
There are several types of woven stainless steel wire mesh, which are well known, such as plain weave, twill weave, Dutch weave, plain Dutch weave, twill Dutch weave. Now Dutch woven wire mesh suppliers will introduce the types of stainless steel wire mesh.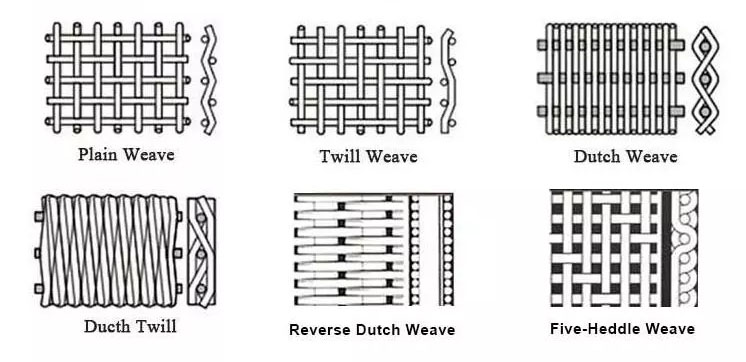 Different woven types of stainless steel wire mesh
Plain Weave
Plain weave is the most common type of weave, the most popular type of weave, and it is used in an extremely wide range of applications. Plain weave means that each thread alternates - first through one thread and then through the next. Each warp thread (the thread parallel to the length of the cloth) is alternately passed above and below the thread that passes through the cloth (fill or shot) at a 90 degree angle.
Twill Weave
Twill weave stainless steel wire mesh is created by weaving the weft threads through two warp threads, creating a stronger weave. This weave allows the use of heavier wire, resulting in a stronger wire mesh. This weave type has a wide range of applications and is capable of supporting larger loads and finer filtration.
Plain Dutch Weave
Stainless steel wire mesh plain Dutch weave screens are woven using two wire sizes. The smaller wire, down to micron size, is used in the weft direction and is woven together with the larger warp wire. The smaller wire is tightly woven together to provide a tight mesh structure for filtration. The larger wires provide strength to the mesh. The primary use of this wire fabric is for filtering and separating liquid and slurry products.
Twill Dutch Weave
Twill Dutch weave stainless steel wire mesh combines Dutch weave and twill weave to provide a fine mesh filter fabric. Schutt threads are passed above and below the two warp threads to provide a tight, fine filter with tapered openings. The weaving process allows the use of very fine wire, micron size, to produce filters for gas and liquid applications.
Dutch weave screens provide superior filtration for a wide range of applications including pressure, fuel and liquid filters for the aerospace, petrochemical, pharmaceutical, mining and wastewater treatment industries.
Dutch weave screens are strong, stable, easy to clean, and have high flow rates for high pressure liquid-solid separation.
The maximum width of Dutch woven wire mesh
3m, a unique mesh size in the Chinese weaving industry for such a fine mesh; 2.5-3m available in stock in 2 micron and 5 micron sizes.
The 3m wide machine is specially designed for weaving Dutch woven wire up to 2800 mesh, with a light table during manufacturing and inspection. All our further processing, inspection and packaging processes are monitored by video, which we show to our customers to better understand how we proceed.
We obtained GB/T19001-2016 /ISO9001:2015 certificate; ISO registration number: 06721Q20630R1M and some customized certificates, such as stainless steel wire mesh salt spray test and Rohs directive test report, White House micron test report, MSDS certificate; etc
As a professional manufacturer of Dutch woven wire mesh, we produce a variety of customized stainless steel wire mesh to meet our customers' filtration needs.
If you would like more information about the wire mesh, please feel free to contact us today or request a quote.