3 ADVANTAGES OF SCREENING YOUR MATERIAL AT THE START OF YOUR PRODUCTION PROCESS
Jun. 15, 2022
1. Preventing damage to downstream equipment
2. Preventing infestations in food processes
3. Two types of sifters are available depending on your application
A screening machine is a necessary bulk material handling equipment for most production processes. It is not uncommon to see screening equipment prior to the final packaging process or after value-adding equipment (i.e., mixing, milling, etc.).

Manufacturers want to guarantee the quality of the product before they ship to the customer, or they want to make sure the material particle is "in spec" after passing through a mill.
But what about quality control at the start of your production process? Let's look closer at the advantages of adding this material handling equipment at the start of your manufacturing process.

1. Preventing damage to downstream equipment
Your process may be dependent on receiving materials from rail cars and open bed trucks. In situations where you need to receive bulk solids in large quantities with minimal quality control, it's advised to screen your material at the start of your process. The benefits to doing so far outweigh the investment in this equipment.

Consider a scenario where your process utilizes a high-speed impact mill (i.e., pin mills, air classifier mills, jet mills). Now imagine you are bringing in large quantities of unrefined salt into your process and this is coming off a rail car. Your supplier may have a crude sieving mechanism to provide a raw quality product, but you really can't be sure that the feed is going to be completely free of rocks and metal debris. Now imagine this material goes into your process unchecked and one of these foreign objects enters a mixing or milling unit. The damage from this type of unchecked detritus would cause catastrophic damage to your process equipment resulting in loss of production time and expensive, unplanned repairs.
This scenario is completely avoidable by using sieves at the introduction of your raw material process. By catching the foreign bodies before they have a chance of entering your process system, you eliminate the possibility of damaging your equipment. If you can catch the foreign objects before they enter your system, you can then qualify your suppliers. The end result would be that your product would meet your quality requirements.
2. Preventing infestations in food processes
Another advantage of sieving materials at the start of your process involves preventing the infestation of pests. There are many applications for flour in food production plants, especially in the bakery industry where end products like doughnuts and cakes require large volumes of this material to be mixed in with other ingredients.

Once the pests take hold of your process it can be difficult to eradicate the infestation, often resulting in fumigation and complete breakdown for cleaning. Needless to say, this results in lots of loss production time and unnecessary maintenance expenses. In this instance, sifting flour and food product materials before they enter the process can provide a much-needed peace of mind to prevent this from happening. Often, to make sure this pest is fully eliminated, food production plants will pre-screen, then pass the material through an impact mill. Studies have been done to show that with the combined effort of pre-screening followed by high-speed impact (i.e., pin mills), this fully eliminates the pest at all life cycle stages.
If your require further assistance,
I am at your entire disposal.
3. Two types of sifters are available depending on your application
Now that we have seen good reasons to screen material before it enters the production process, let's consider which type of screener is best suited for the job.
Both types of sifting equipment essentially provide the same service, making sure your material is quality controlled. However, both sift material in different ways resulting in one being favoured over the other in certain applications. Perhaps your material has bad flow properties as it tends to form small soft agglomerates or clings to itself (cohesive).
For example, granulated sugar can often form compression lumps while in storage. These soft agglomerates are typically able to be teased apart by rubbing the clump of material between your fingers. Or, you may be working with pet food ingredients that have more moisture and fat content, causing the material to build up on equipment over time. Centrifugal sifters are best suited for materials that may have less than ideal flow characteristics. The spinning action of the paddle assembly creates a centrifugal force that breaks up soft, small lumps in your bulk material. Furthermore, nylon cloth screens that surround and sieve the powders can flex due to centrifugal forces. This creates a "breathing" effect on the nylon mesh, which is a unique benefit as any near size particles that can possibly blind the mesh will dislodge themselves as a result. Therefore, nylon screens when used in centrifugal sifters can be considered "self-cleaning" and more friendly to materials that tend to cling and build up over time.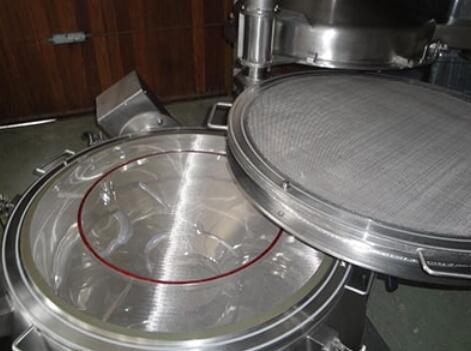 What if you have a material that is very dense and needs to be screened through very fine mesh sizes?
For example, metal powders often need to be screened at mesh sizes that are below 100 microns. Or, you have a liquid/solid straining process that involves getting coarse granular material out of a liquid stream.
Vibrating screeners are capable of screening materials at finer meshes then centrifugal sifters are capable of. The large and flat surface area of a vibrating strainer allows the material to spread out and find its way through the wire-mesh (wire-cloth) aperture.
The shaker motor agitates the mesh screen to move the material around the surface. That way undersize particles can find their way through and oversize particles out the top side of the woven mesh. Very fine and dense particulates or liquid filtration from solids can easily find their way through the steel mesh.
So, ultimately it comes down to the type of raw material you are screening and the results you want the sifter to achieve. If you are working with dense, very fine powders or liquid/solid strainers, then the vibrating separator is your best bet. If your material is light, or has poor flow properties and requires agitation to promote flow, a centrifugal screener is the solution. Both types of equipment can be made of carbon steel or stainless steel fabrication, depending on your process needs. Screens can be supplied in a variety of formats: nylon cloth, woven wire mesh, stainless steel wire mesh, wire screen, perforated plate, etc.
Our experts are available to work with your team to define the type of equipment best suited for your process. Contact us today!